We are skilled in a wide variety of professional decorating trades
From Georgian buildings, commercial office interiors and large-scale industrial units, we offer specific expertise and skills in all areas of painting and decorating. We will be able to advise on the best solutions for your project.
Specialist finishes and restorations
Many Irish buildings and homes have a visual history that is worth keeping. We have many years of experience preserving interior and exterior details of houses, and can advise on the most sympathetic treatment for furnishings, period details and restorations.
We provide the following expert decorating services:
Wallpaper hanging
French polishing
Traditional moulding
Wood staining and varnish application
Wall and ceiling restoration
Spray painting
Period door restoration and hand-painting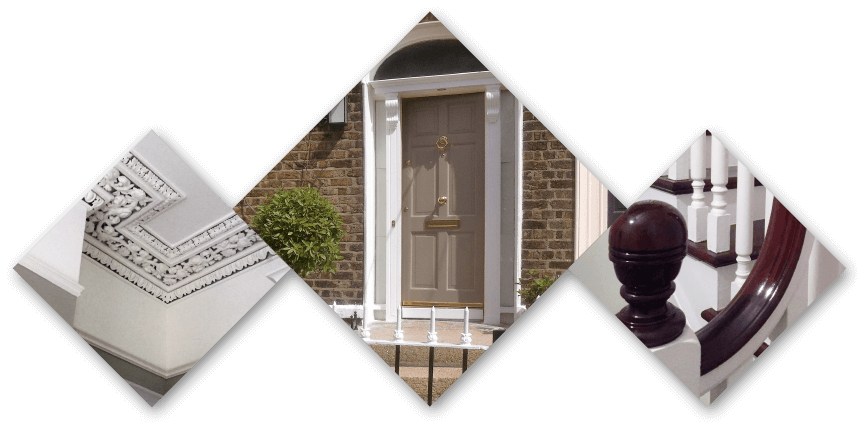 Commercial painting & decorating
Committed to excellence
As one of the most trusted and established decorating companies in Dublin Galus Painting and Decorating have built a reputation for quality workmanship. We offer a comprehensive range of commercial services on all kinds of interior and exterior projects; from large offices and retail stores to apartment blocks. We are recognised for adding value to the supply chain with our commitment to excellence in all we do.
We work with all the leading paint manufacturers and can provide technical support, including specification and interior design development to tailor a painting solution. We are flexible and thorough and we always strive for the perfect finish.
Dedicated customer service
We work closely with our valued clients, listen to their needs and address them accordingly, which ensures smooth and timely project management on time and on budget.
We use skilled and efficient painters with many years of experience who are trained to deliver a flexible, efficient, and reliable service. We have experience of working for a wide range of clients on a wide range of projects. We keep up to date with the newest technology and industry practices; we have an in-depth knowledge of materials, techniques and trends and we are always on hand to offer our advice.